Good Morning Students and Staff,
On November 11th, citizens across this nation will stop what they are doing and take a moment to pause and remember. We too, would like to take an opportunity to gather together and engage in an act of remembrance, but as November 11th falls on Sunday, we have decided to gather this morning to stop, be silent and remember.
Of course, it is our great fortune as a nation that you, as children who are so far removed from our nation's large-scale involvement in war in the twentieth century, have no true memories of fallen soldiers. If I had been a principal in the 1920s or the 1950s and were to ask how many of you remember someone who had fallen in battle, practically every child would raise their hand.
Thus, for you, it is especially important that you listen to the words of those who have lived close to the reality of war and who can guide us in the act of remembrance. Today is a day for you to reflect on both the sacrifice made by men and women who have taken great risks, and to reflect on Canada's role in the world. You must learn of war and of those who have acted on behalf of our nation in the act of war if you are to empathize with those who have suffered loss on your behalf and if you are to consider, as participating citizens, what role Canada will take in the future.
We often talk in this school of risk takers. Soldiers are often called upon to risk everything. They leave their families and put themselves in harm's way on a daily basis.
We are privileged this morning to be joined by one such soldier, Lieutenant Carrie Pluck. Lieutenant Pluck heralds from Windsor where her first brush with the military was through, of all things, music, as she played in the military band. She has had a career in assisting the military in technological support, and spent time in 2002 in the Golan Heights on a United Nations peace-keeping mission there.
Lieutenant Pluck will speak to you about that risk taking aspect of the soldier's life, and the courage that must accompany it.
Please join me in welcoming Lieutenant Pluck to The York School.
For most of you here today, a life without sport is inconceivable.  Most of you could no more imagine a school without sports than a school without reading.  And yet, around the world there are children who do not enjoy the privilege of engaging in organized sports.  There are parts of the world, including areas that our students have travelled to, where one of the most important gifts we can bring is a simple ball.  Organizations such as Right to Play have recognized the importance of sport and play in enriching some of the resource-poor areas of the world.  Sport is a privilege for which we must be thankful.
But I also want to suggest to you that sports, although they may appear to be physical contests or mere games, are an essential component in our society and in our school.
Some might suggest that sports forms an education of the body, but for anyone who has been part of an extra-curricular sport, they know it is much more than an education of the body.  Sports give our students the opportunity to train their bodies, their minds, and their spirits.  Ultimately, sports are part of our overall mission to nurture engaged citizens of the world.
Sports engage the mind, body and soul in acitivities, when well coached, lead to those values that we associate with good citizens.  Individual sports, such as cross-country running, help our athletes to build not only bodily endurance, but resilience, determination, courage and self-discipline.  Team sports, such as basketball, may help develop sport-specific skills like dribbling and shooting, but they also encourage key citizenship values such as loyalty, cooperation, courtesy, leadership and respect.  Can you imagine a successful school or world where there is no courage, where there is no cooperation or respect?  How much better would our world be if our citizens had the determination of a champion athlete?
The students and staff who you have seen up here were not merely engaged in physical contests.  They were involved in preparing themselves for a life in which all of these values will be important to them.  They spent early mornings and late days facing obstacles and overcoming them.  In so doing, they have become better people, better citizens. And I think they had a lot of fun doing it.
So, as we share in the successes of our student athletes on the field and court, let us remember that we are privileged to be so engaged, and we are privileged to be led by such a fine body of committed coaches.  Please join me in thanking all the coaches who helped our students to become even better citizens of the world.  We should also extend a vote of thanks to all score keepers and referees.  I would also like to express my thanks for the support of Mr. Jones, our Head, and the entire Board of Directors.  Let me thank as well the work of Mr. Feeney, who unfailingly keeps our coaches and players focused on the real values of sport.
To our student athletes, congratulations in performing so well on the court and field.   I love to come out and watch you play – you have entertained us, inspired us, and demonstrated to us what it means to be engaged citizens of the world.
Over the past many weeks – I'll not say how many – I have been making my way through Charles Dickens' great masterpiece, David Copperfield. Though only at the halfway mark, I am continually struck by the degree to which Dickens speaks to us out of such a different age. Not merely an age in which class shaped fortunes (as Mr. Waterbrook agrees with his wife, "Other things are all well in their way, but give me Blood!") and debtor prisons snared luckless souls, but an age in which good character could trump all. Or is it such a different age? Obama has me thinking.
Of all the forces that we consider to be instrumental in forming our attitudes, how little do we consider the role of literature. And yet, I can't help but feel that there is nothing quite as powerful as the web of themes, emotions, opinions, world views, causes and effects, and characters that we find in the novel. It is no wonder that societies have paid close attention to the literature of the day, censoring those examples that threaten to upset the social fabric or reigning political apparatus. If literature does shape societal mores and attitudes, what must have been the ethos formed by the writings of Dickens? Or, to put the chicken before the egg, what kind of society would have given rise to Dickens' novels, novels full of so many unforgettable characters?
For me, characters are what make Dickens' novels stand out. Being introduced to Pip, Joe, and Miss Havisham at the age of 13 or 14, when asked to read Great Expectations for my grade 9 English class, was in some ways more important and more memorable than all of the school chums I met in that year of school.
To this day, whenever my four children's rising voices turn our dinner table into a boiling sea, I enjoy mimicking Mr. Pocket, who regularly "put his two hands into his disturbed hair, and appeared to make an extraordinary effort to lift himself up by it." The love, humility and sheer goodness of Joe Gargery have helped form the foundation of my understanding of those three words. The emotional cost of lost love and crushed dreams forever echo in my mind in the persons of Miss Havisham and Estella.
For those who don't like Dickens, my eldest son among them, the problem – in addition to the atrocious length of the sentences, compared with which this specimen might be considered short – is that he didn't create characters; he created caricatures. Without question, Dickens dramatically drew each face, dressed each body and gave each character a name that collectively left no doubt as to the character within. Take Miss Murdstone, David Copperfield's step-aunt:
It was Miss Murdstone who was arrived, and a gloomy-looking lady she was; dark, like her brother, whom she greatly resembled in face and voice; and with very heavy eyebrows, nearly meeting over her large nose, as if, being disabled by the wrongs of her sex from wearing whiskers, she had carried them to that account. She brought with her two uncompromising hard black boxes, with her initials on the lids in hard brass nails. When she paid the coachman she took her money out of a bag which hung upon her arm by a heavy chain, and shut up like a bite. I had never, at that time, seen such a metallic lady altogether as Miss Murdstone was.
No one in real life is so clearly evil as Uriah Heep or as good and faithful as Peggotty, they say. True enough, I say. But perhaps Dickens' characters appear as caricatures to us, not because their characteristics are excessive, but because we no longer believe in the force of character. Perhaps our modern tendency to dismiss Dickens' characters as caricatures is nothing more than our refusal to believe that a unified character could ever speak forth from the infinite details of one's life.
If Dickens were to travel through time, and join the typical North American family for an evening filled with three hours of television watching and who knows how many hours of web surfing, with a few minutes of eating and talk squeezed in somewhere, I think he would find the force of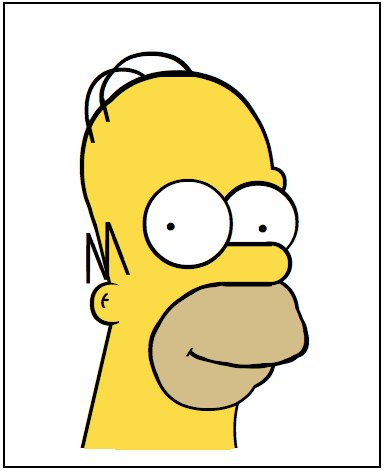 character very difficult to discern. In the post-modern world that we inhabit, where The Simpsons provide us with daily reminders of the ruling ethos of moral relativism and irony, Dickens would likely lose his bearings. Values such as honesty, humility, and faithfulness are playthings for modern characters to toss about, turning them on their head, forsaking them and eventually having reluctantly to embrace them, often for a mixture of pragmatic and nostalgic reasons. In our present-day multi-faith society, people who steadfastly hold to a set of values are ridiculed as being orthodox, old-fashioned, or simply "Christian" or "Muslim". All ground is quicksand, and no one dare stand too long in one place. As Yeats observed, in part, in The Second Coming,
Things fall apart; the centre does not hold;
….
The ceremony of innocence is drowned;
The best lack all conviction, while the worst
Are full of passionate intensity.
It is no wonder that in such a world we would cease to believe in character. How could man or woman be expected to adhere to a set of values and thereby risk all that our consumer-driven, power-hungry society thirsts after.
But into this same world walked Barack Obama – not, perhaps, as the Second Coming, but surely as a sharp turn away from irony and the partisan forces that have come to choke the social and political scene. As Joan Didion writes in a compilation article in the December 18th edition of The New York Review of Books, entitled "Obama: In the Irony-Free Zone",
Irony was now out. Naiveté, translated into "hope," was now in. Innocence, even when it looked like ignorance, was now prized.
Although my knowledge of American politics is even slighter than my hold on Victorian literature, I would suggest that what Obama brings to the political stage is character. Interestingly, all efforts to destroy Obama's campaign centred on labels– Muslim, radical, or socialist – and not on the man himself. What impresses people about Obama is the consistency of his character. His positions on various issues may not be set in stone, but his demeanour, his firmness, and his thoughtfulness are.
Whence came such a man? Interestingly enough, his upbringing would have made excellent fodder for a Dickens novel. Abner Mikva, a former congressman, was quoted by Elizabeth Drew in an article in the same edition of The New York Review of Books, ("The Truth About the Election"):
He's very comfortable with who he is; he knows where he wants to go and how to get there. He had the kind of bringing up that turns someone into a mess or a very solid, thoughtful person.
How often do we hear talk of the grandmother who brought up Obama. A Harvard education is all very well, but more essential to character are the people who influence us.
Dickens knew this. He didn't merely create memorable characters; his characters made a difference in building the character of his protagonists. The twists and turns in the lives of Pip, Oliver Twist and David Copperfield are all marked by the influence of the characters they meet. The lesson told time and time again, is that characters shape us for good or for ill. Characters lead us astray, and characters save us. God and the devil are incarnate, and by embracing the former and avoiding the latter, we may, despite our lowly beginnings and the societal limitations that threaten to hem us in, become persons of good character and good promise.
If Obama has ushered in a return to the importance of character, how can we, as educators, ensure that our children make the most of this hopeful prospect?
To take Dickens, once again, as our guide, I would suggest that we invest in good character. When Dickens describes the two schools that Copperfield attends as a young boy, it is not the lessons that stand out, but the values and characters that make the institution. Hear what he has to say about Doctor Strong's school:
Doctor Strong's was an excellent school; as different from Mr. Creakle's as good is from evil. It was very gravely and decorously ordered, and on a sound system; with an appeal, in everything, to the honour and good faith of the boys, and an avowed intention to rely on their possession of those qualities unless they proved themselves unworthy of it, which worked wonders. We all felt that we had a part in the management of the place, and in sustaining its character and dignity. Hence, we soon became warmly attached to it . . .
And hear also what he has to say about the character of Doctor Strong himself:
But the Doctor himself was the idol of the whole school: and it must have been a badly-composed school if he had been anything else, for he was the kindest of men; with a simple faith in him that might have touched the stone hearts of the very urns upon the wall.
In short, we must strive to believe in the capacity of our children to demonstrate good character, to give them every opportunity to develop it, and to be of good character, ourselves. We need to create a community in which our students learn not only what our teachers know, but also what they value – something that emerges so well in the context of a rich array of teacher-led, co-curricular activities. We must lead our students beyond our school walls to interact with the world, carrying forth their values and the values of their school. But above all, we can never forget the importance of our own character. As a father of four, I am repeatedly reminded that the lives we live as adults appear more vividly to the young than the largest and highest definition television screen yet to be invented. We owe a sacred duty to the children of our school to live consistently by the values that we would wish upon those children – honesty, truth, and love being chief among them. When we have done as much, then we might deserve to be seen as "the idol of the whole school".
And it wouldn't hurt to have them read Dickens!